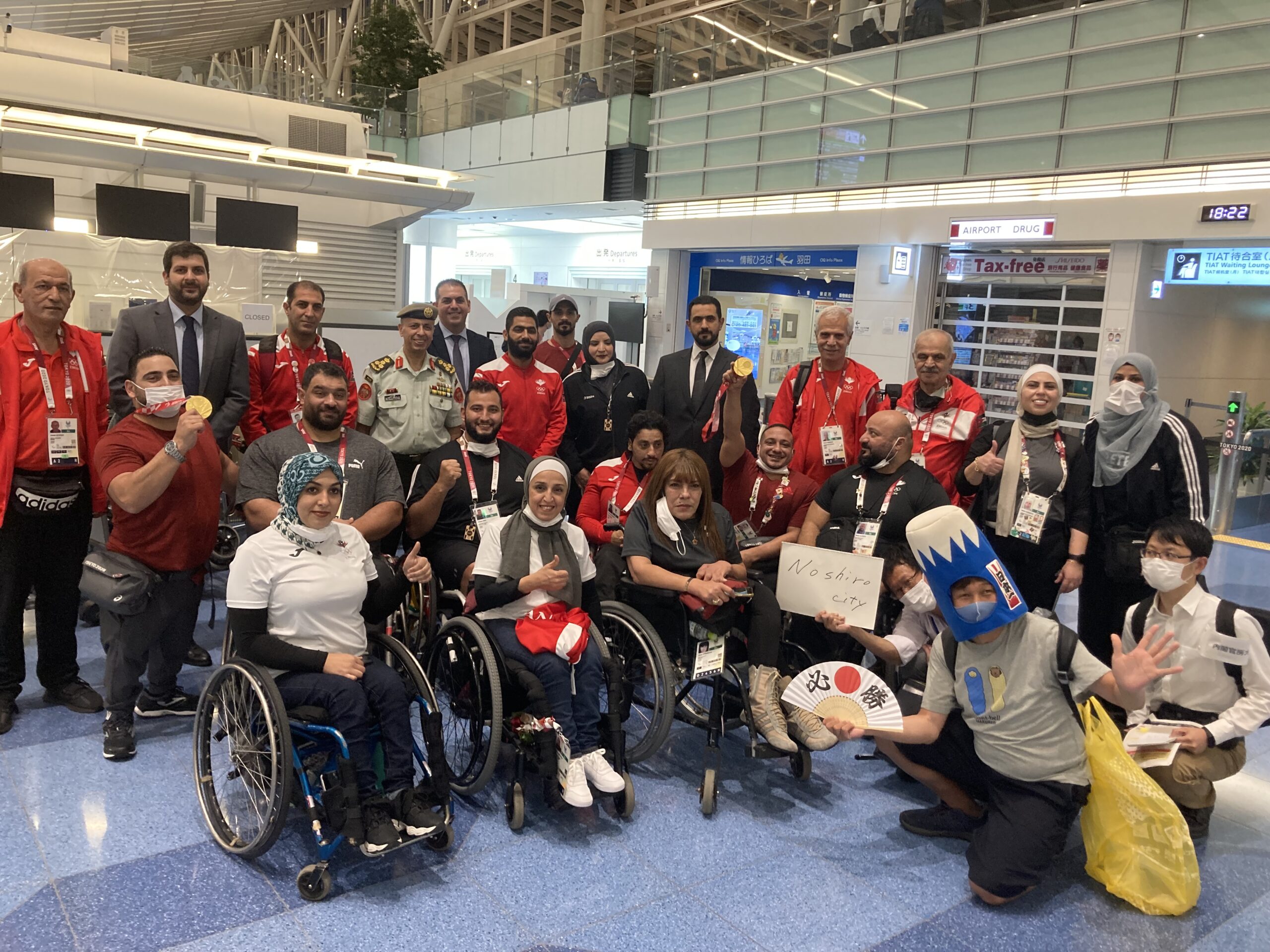 September 7th 2021
The Embassy represented by the Chargé d'Affaires Ad Interim Mr. Rasheed Arekat, 1st Secretary Mr. Mohammad Al Khalidi and Consul Mr. Talal Masarweh in addition to the Military Attaché Brigadier General Mr. Bassam Al Falah bid farewell to the Jordanian Paralympic delegation at Haneda International Airport on the 7th of September.
The Jordanian Paralympic Delegation ended their historic participation in the Tokyo 2020 Paralympic Games which were held from 24/08/2021 till 05/09/2021, with a total of 5 medals (4 Gold and 1 Bronze), in addition to breaking Paralympic Records in the Shot Put and Power lifting competitions.
Jordan won three medals at the previous edition held in Rio de Janeiro, and won a total of 17 medals since the 1st Paralympic participation in 1984.
السفارة تودع البعثة البارالمبية الأردنية
غادرت البعثة البارالمبية الأردنية المشاركة في دورة العاب طوكيو 2020 بتاريخ 07/09/2021 متوجهين إلى المملكة وكانت السفارة ممثلة بالسيد رشيد عريقات القائم باعمال السفارة الاردنية بالإنابة والملحق العسكري العميد بسام العجارمة والسكرتير الاول السيد محمد الخالدي والقنصل السيد طلال مصاروه في وداع البعثة الاردنية البارالمية في مطار هانيدا الدولي
وبذلك تكون البعثة البارالمبية قد اختتمت مشاركتها التاريخية في ألعاب طوكيو 2020 بحصولها على 5 ميداليات (4 ذهبية و1برونزية) بالإضافة إلى تحقيق أرقام قياسية عالمية في منافسات رمي الجلة ورفع الأثقال
حرص الأردن على التواجد منذ عام 1984 في دورات الألعاب البارالمبية حيث كان نصيب الأردن 17مدالية ملونة (5 ذهب، 6 فضة و6 برونز)، بإمضاء مها البرغوثي، الراحلة عايدة الشيشاني، ختام أبو عوض، فاطمة العزام، ثروة الجاج، عماد الغرباوي، جميل الشبلي، عمر قرادة، معتز الجنيدي