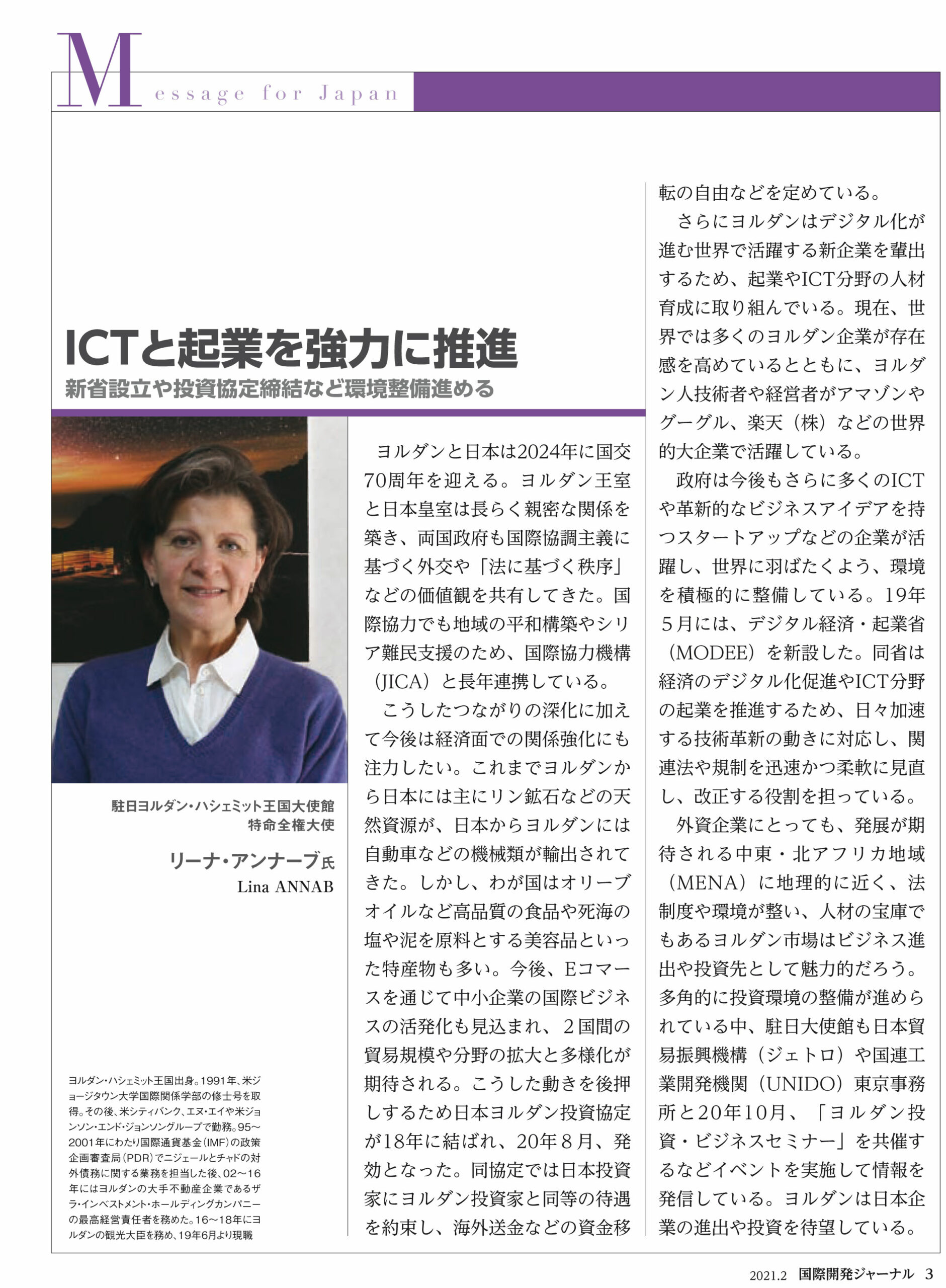 February 1st 2021
An interview with Ambassador Lina Annab was published (In Japanese language) in the February 2021 edition of the International Development Journal (IDJ) of Japan.
Ambassador Annab spoke of the investment environment and opportunities in Jordan.  The recently signed "Japan-Jordan Investment Agreement"  that went into effect in August 2020 was highlighted.  Annab explained how the agreement promises Japanese investors the same treatment as Jordanian investors, and also provides freedom of movement of funds such as overseas remittances.
Annab indicated how Jordan is working on entrepreneurship and human resource development in the ICT field in order to produce new companies that are active in the increasingly digital world.
Annab went on to say that "The Jordanian government will continue to actively improve the environment so that startups with more ICT and innovative business ideas could play an active role locally, regionally and internationally."  In May 2019, the Ministry of Digital Economy and Entrepreneurship (MODEE) was newly established. The Ministry is responsible for swiftly and flexibly reviewing and amending related laws and regulations in response to the accelerating movement of technological innovation in order to promote the digitization of the economy and entrepreneurship in the ICT field.
The interview emphasized that for foreign-affiliated companies, the Jordan market, which is geographically close to the Middle East / North Africa region (MENA), where development is expected, has a well-established legal system and environment, and is a treasure trove of human resources, will be attractive as a business expansion and investment destination. While the investment environment is being developed from various angles, the Embassy of Jordan to Japan also held a "Jordan Investment and Business Seminar" with the Japan External Trade Organization (JETRO) and the United Nations Industrial Development Organization (UNIDO) Tokyo Office in October 2008. I would like to continue to convey the charm of Jordan as a bridge between the two countries. Jordan looks forward to the investment from the Japanese companies and its active advancement to Jordan.