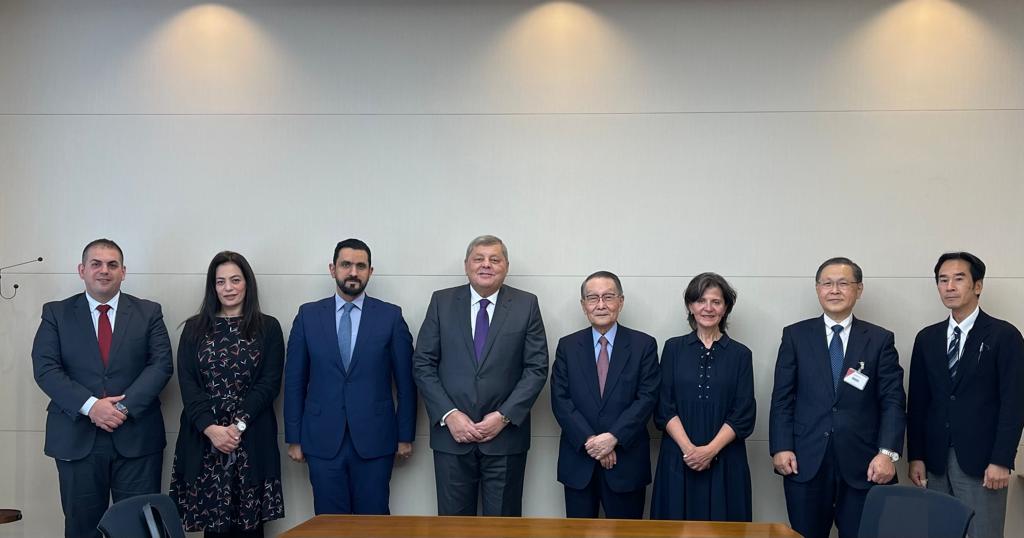 October 28th 2022
A fruitful and warm meeting was held on Friday October 28 in #Tokyo between the chairman of Jordan-Japan Association Mr. Mazen Darwazah and the chairman of Japan-Jordan Association Mr. SASAKI Mikio (serves also as chairman  of the "Middle East Institute of Japan").
Ambassador Lina Annab and diplomats from the Embassy of Jordan in Japan attended the meeting.
Strengthening people to people ties through cultural, academic, tourism and other exchanges are priorities that the meeting focused on.
لقاء بين رئيس الجمعية الأردنية-اليابانية السيد مازن دروزة ورئيس الجمعية اليابانية-الأردنية السيد ساساكي ميكيو
28/10/2022
تم عقد لقاء مثمر في طوكيو بتاريخ 28/10/2022 بين رئيس الجمعية الأردنية-اليابانية السيد مازن دروزة ورئيس الجمعية اليابانية-الأردنية السيد ساساكي ميكيو (الذي يرأس معهد الشرق الأوسط الياباني)
حضر الاجتماع من الجانب الأردني السفيرة لينا عناب ودبلوماسيين من سفارة الأردن في اليابان بالإضافة إلى مجموعة من المسؤولين المعنيين من الجانب الياباني
ركز الاجتماع على الأولويات التي شملت تعزيز العلاقات على مستوى الشعبين الأردني والياباني من خلال التبادلات الثقافية والأكاديمية والسياحية وغيرها من أوجه التعاون الممكنة
ヨルダン・日本協会マーゼン・ダルワゼ会長と日本・ヨルダン協会佐々木幹夫会長との面会
10月28日 2022
10月28日(金)、東京にて、ヨルダン・日本協会のマーゼン・ダルワゼ会長と日本・ヨルダン協会の佐々木幹夫会長(「中東調査会」会長兼務)の間で、実りある温かい会合が開催されました。
駐日ヨルダン大使館からはリーナ・アンナーブ大使と外交官が出席しました。
文化、学術、観光などの交流を通じて人と人とのつながりを強化することが、今回の会議の優先課題でした。