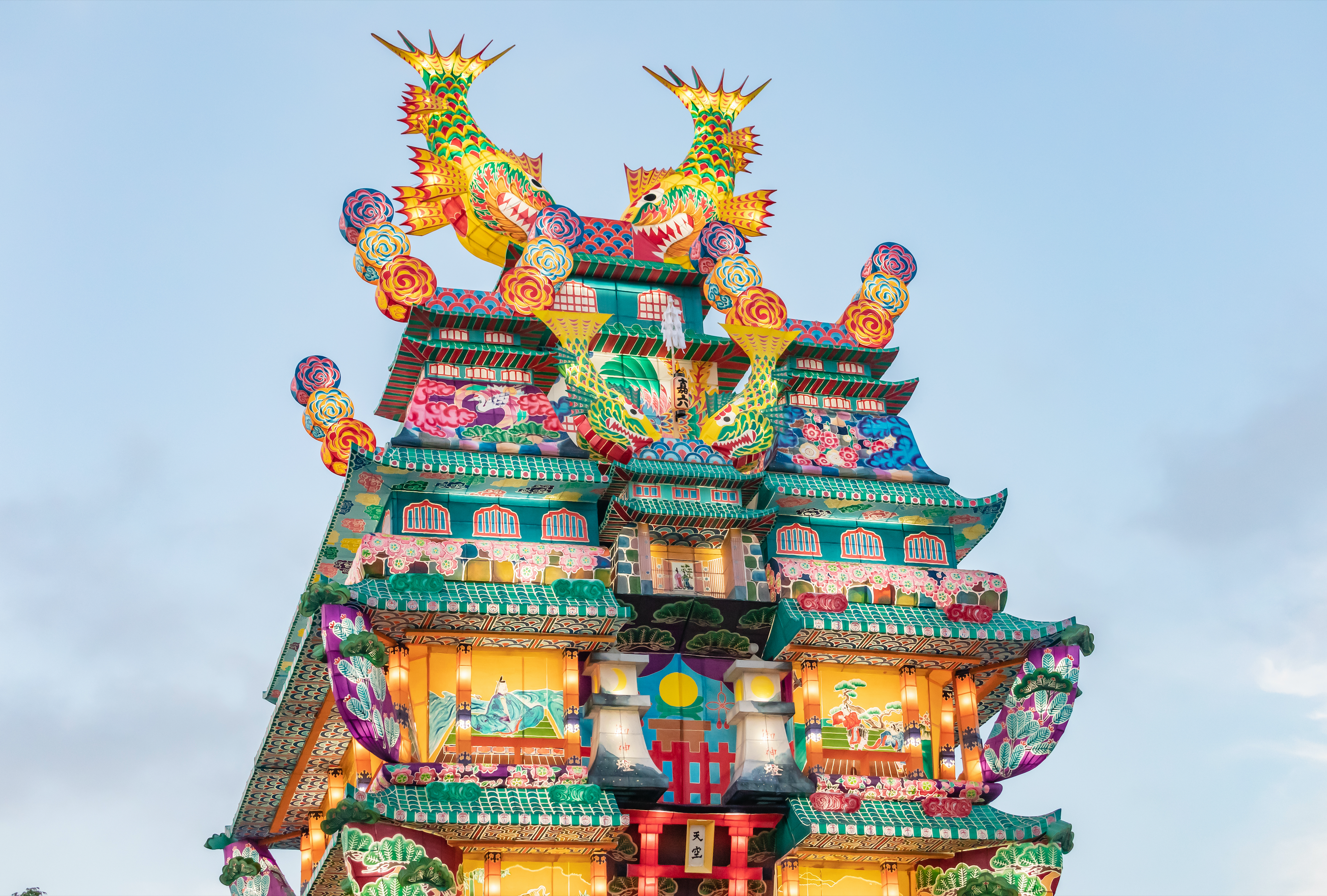 Noshiro's castle-shaped lantern float displayed during the annual Tanabata "Tenku-no-Fuyajou" summer festival in Noshiro"
Aug 21, 2019.
Noshiro City located in Akita Prefecture in Japan has been selected as Jordan's Host Town for TOKYO 2020 Olympics and Paralympic Games. The announcement came following a meeting on Wednesday August 21 at Noshiro City Hall between Ambassador of Jordan to Japan, Ms. Lina Annab, and the Mayor of Noshiro City Mr Shigenobu Saito. The meeting was attended by officials from the embassy of Jordan in Tokyo and officials from Noshiro City in addition to Japanese media representatives. 
Annab commented on this selection by saying "we are delighted to be forging this important partnership and friendship with such a great City as Noshiro and its wonderful people". She added: "Having Noshiro as Jordan's "Host Town" is a great step in our efforts to plan for Jordan-related events and activities to be held in Japan before, during and after Tokyo 2020 Olympic and Paralympic Games."        
The Host Town Initiative was launched in 2016 by the Japanese Government through the Secretariat of the Headquarters for the Tokyo 2020 Olympic and Paralympic Games. The "Host Town" aims at identifying a specific town or towns in Japan that would facilitate exchange of Olympic athletes and their families as well as people from the hosted country. Initiatives such as the "Host Town" provide the opportunity for locals to host teams at a variety of sporting, pre-game training camps, cultural and educational events. It also promotes the given country by deepening mutual understanding through grass root exchanges and activities paving the way for long-lasting relations between the "Host Town" and the hosted country. As of July 29, 416 municipalities had been registered as host towns for 136 countries 
Noshiro City is located northwest of Akita Prefecture, part of Tohoku Region, and is around 670km north of Tokyo, with a total population of 52,000 inhabitants. The city is surrounded by Shirakami Mountains, which holds a UNESCO World Heritage Site called Shirakami Sanchi. Noshiro, also known as the "Basketball City", has one of the best Basketball team on the High School level, the Noshiro Industry High School Basketball Team.
The 2020 Olympics and Paralympic Games are due to take place in Tokyo on July 24 till August 9 and August 25- till September 6 respectively.