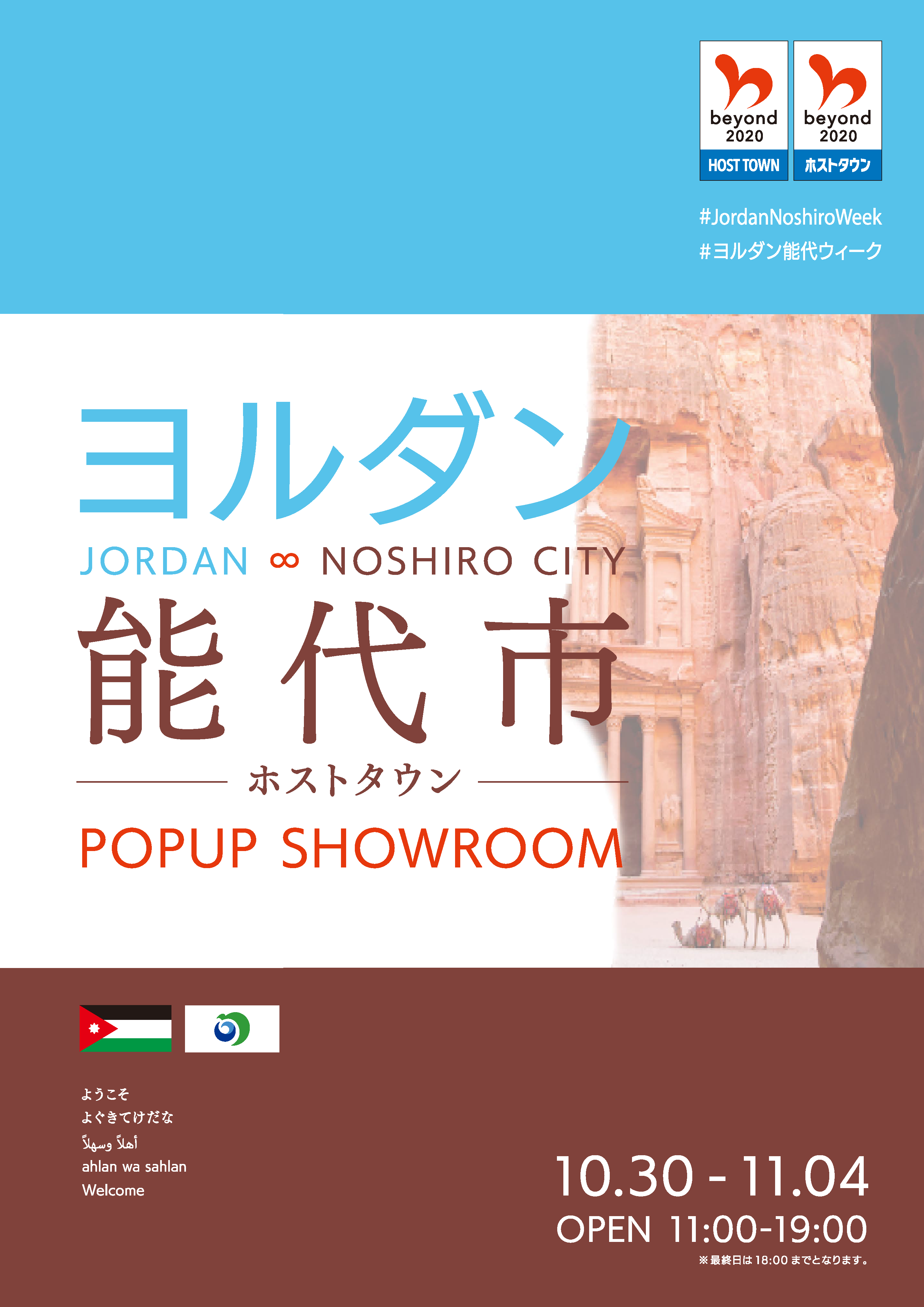 October 28th, 2020
We are pleased to invite you to attend "Jordan-Noshiro Week" event which will take place in the heart of Tokyo this week!
The Embassy and the City of Noshiro are organizing this event to celebrate their partnership under the Host Town Initiative of the Tokyo 2020 Olympic and Paralympic Games.
It promises a feast for the senses! You will have the chance to learn more about the Host Town Initiative, Jordan and Noshiro; treat your eyes with short videos and a photo exhibition featuring Jordan and Noshiro's most beautiful sites, enjoy music by Jordanian artists, savor Jordanian traditional food, and discover Jordanian products such as Dead Sea cosmetic products and much more!
The event is free and open to the public!
See you there!
Dates:  every day starting from Friday 30 October till Wednesday 04 November
Opening hours: from 11am till 7pm (except on Wednesday till 6pm)
Location: Tokyo City i Performance Zone
B1 Floor, KITTE JP Tower 2-7-2 Marunouchi, Chiyoda-ku, Tokyo (1 min walk from JR Tokyo Station Marunouchi South Gate)
Access: https://en.tokyocity-i.jp/about/access/
10月30日(金)より「ヨルダン・能代ウィーク」がKITTE丸の内で行われます。
ヨルダンと秋田県能代市が東京オリンピック・パラリンピック2020のホストタウンパートナー記念としてヨルダン大使館と能代市の共同企画で行われます。
ホストタウン事業だけではなくヨルダンと能代市の美しい写真やビデオ展示ヨルダン人アーティストによる音楽を楽しめるほか、ヨルダンフードや死海コスメの販売も行います。
入場は無料ですので皆様ぜひお越しください。
開催日:10/30-(金)-11/4(水)11:00-19:00(最終日は18時まで)
開催場所:東京都千代田区丸の内2-7-2
東京シティアイ パフォーマンスゾーン
キッテJPタワー地下1階東京駅より徒歩1分
アクセス:https://www.tokyocity-i.jp/about/access/