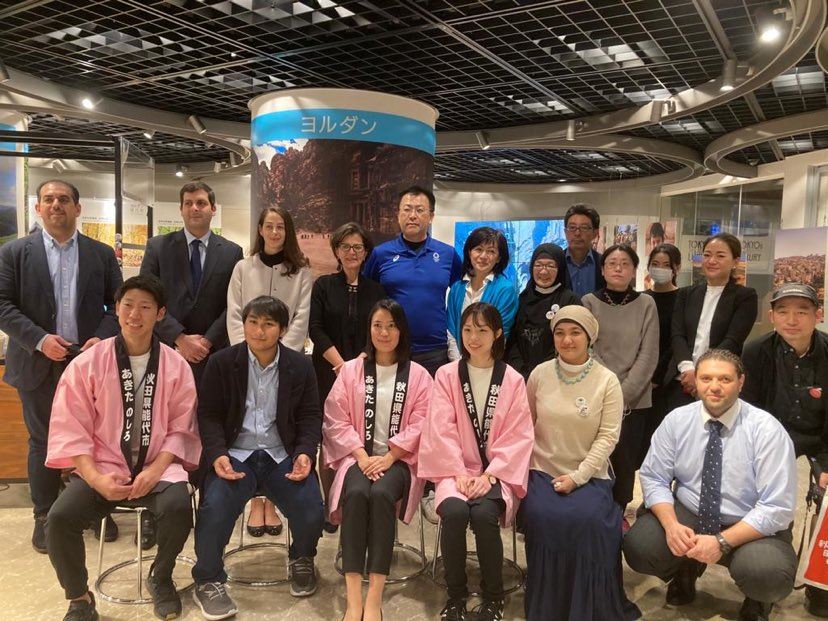 November 4th, 2020
The 1st "Jordan Noshiro Week" was a great success. The event took place in Tokyo from October 31st till November 4th. It was co-organized by the Embassy of Jordan in Japan and Noshiro City in Akita Prefecture, Jordan's Host Town for the Tokyo 2020 Olympic and Paralympic Games.
During the 6-day event, over 2000 visitors got the chance to experience the beauty of Jordan through a photo exhibition of Jordan's main historic and cultural sites in addition to its culinary diversity. A dedicated section to Jordan's Olympic and Paralympic qualifying and qualified Olympic players was also displayed to introduce Jordan's great athletes. Visitors also enjoyed watching short movies showcasing Jordan and Noshiro City. Recorded music by renowned Jordanian artists Talal Abu Al Ragheb and Tareq Aljundi were played throughout the event.
Building on and following this year's success, the event is intended to be held on annual basis with more elaborate programs and activities to be included.
As this year's event come to a close, we would like to seize this opportunity to thank all those who visited our event (Japanese, Jordanians, and all visitors and expatriates residing in Japan).
The Embassy would also like to express its deep appreciation to our partners in Noshiro City and Tokyo City i for making this event possible, and to all those who participated in the event and made it a success (Happo-en event planners, Baraka Dead Sea products, and Nashmi for handmade and Jordanian cuisine catering services, Mezete Hummus/Al Kasih Food Production Company).
For more information on some of the participants and musicians featured this year:
Nashmi
instagram.com/nashmi.jp?igshid=fjlhzx4u2ck0
Mezete Hummus
Baraka Dead Sea Products
Tareq AlJundi (artist)
Talal Abu Al Ragheb (artist)
第1回「ヨルダン・能代ウィーク」大盛況のうちに幕を閉じました
2020年11月4日
10月31日から11月4日まで、第1回「ヨルダン・能代ウィーク」が東京で開催されました。 このイベントは、駐日ヨルダン大使館と東京オリンピック・パラリンピックのヨルダンのホストタウンである秋田県能代市の共催で開催されました。
6日間のイベントでは、ヨルダンの食の多様性に加え、ヨルダンの主要な歴史的・文化的遺跡の写真展を開催し、2000人以上の来場者にヨルダンの美しさを体験していただきました。 また、ヨルダンと東京2020大会のホストタウンである能代市についてのショートムービーも上映されました。 また、Talal Abu el Ragheb氏やTareq Jundi氏など、著名なヨルダン人アーティストによる音楽がイベント中に流れました。
今年の成功を受けて、今後も毎年のように内容を充実させたイベントを企画していきたいと考えています。
今年のイベントが終了するにあたり、ご来場いただいた皆様(日本人、ヨルダン人、在日外国人の皆様)にこの場を借りてお礼を申し上げます。
また、このイベントを実現させてくださった能代市と東京シティアイのパートナーの皆様、そしてイベントに参加してくださった皆様(八芳園のイベントプランナー、死海製品のバラカ、手作りとヨルダン料理のケータリングサービスを提供してくださったナシュミ、メゼーテ・フムス/アル・カシフ食品製造会社)に深く感謝いたします。
"إختتام معرض "أسبوع الأردن ونوشيرو
إختتم مساء يوم الأربعاء معرض "أسبوع الأردن ونوشيرو" والذي عقد خلال الفترة من 30-10-2020 لغاية 4-11-2020، حيث بلغ عدد زائري المعرض ما يزيد عن 2000 شخص
هذا وأقامت السفارة المعرض إلى جانب مدينة نوشيرو احتفاءً بالشراكة التي تربطهما ضمن مبادرة  (المدينة المستضيفة) الخاصة بالألعاب الأولمبية والبارالمبية طوكيو 2020
وقد شمل المعرض عرضاُ لأفلام قصيرة وصور لأبرز المعالم في كل من الأردن ونوشيرو في أجواء رافقتها موسيقى لفنانين أردنيين (طارق الجندي وطلال أبو الراغب)، بالإضافة إلى عرض مأكولات ومنتجات الأردنية وغيرها
ونتيجة للإقبال الذي حظى به المعرض، تتجه النيه لعقده بشكل سنوي على أن يشمل على مزيد من المعروضات والأنشطة
هذا وتنتهز السفارة هذه الفرصة للتعبير عن إمتنانها لكافة زائري المعرض (الأردنيين، واليابانيين، والمقيمين الأجانب)، وتود السفارة تقديم شكر خاص لكل من شارك في تنظيم المعرض (بلدية نوشيرو، شركة "بركة" اليابانية لمنتجات البحر الميت و "نشمي" للمأكولات الأردنية، شركة الكسيح لتصنيع الأطعمة)