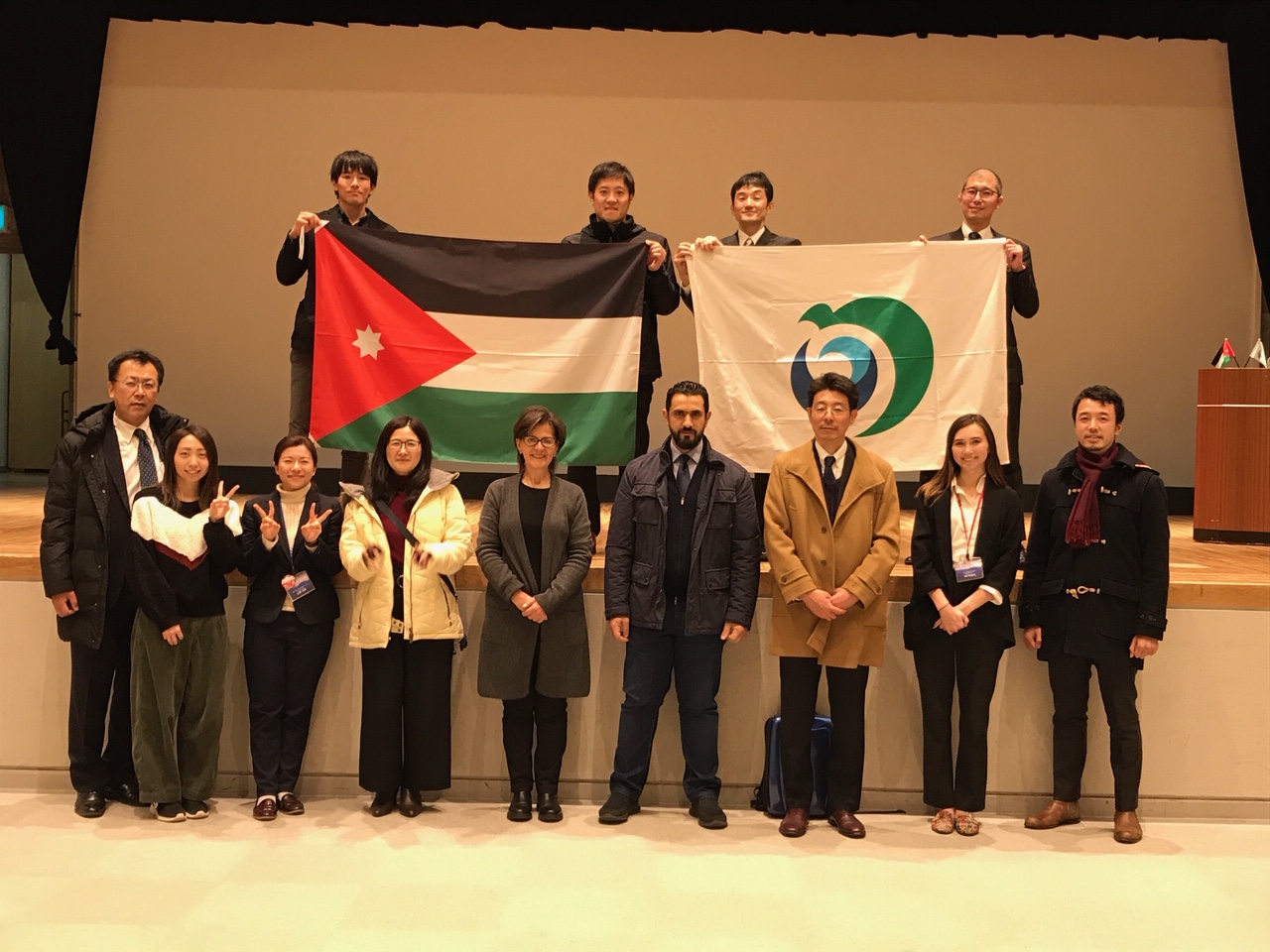 Dec 19, 2019.
The Embassy of Hashemite Kingdom of Jordan organized a Jordanian Cultural Event in the City of Noshiro on the 19th of December 2019, which was attended by over 200 people, and counted with the participation of H.E. Lina Annab, Ambassador of Jordan to Japan, and Mr. Shigenobu Saito, Mayor of Noshiro, and Dr. Mie Katusno, Director General for Planning and Promotion at the Secretariat of the Headquarters for the Tokyo 2020 Olympic and Paralympic Games Cabinet Secretariat. 
The event included a lecture by Ambassador Annab, during which she presented Jordan's culture, history, and touristic sites aiming to deepen the understanding of the people of Noshiro about Jordan. 
Mr. Koji Oyama, former JICA expert who served in Amman, also participated in the event by giving a speech during which he shared his experience in Jordan.
The attendees also had the opportunity to taste Jordanian authentic food, listen to Jordanian traditional music, and to try on Jordanian traditional clothing. 
The event also witnessed the signing of a Certificate of Partnership between the Embassy of Jordan and the City of Noshiro, forging a partnership under the Japanese Government's Host Town Initiative of the Olympic and Paralympic Games Tokyo 2020, with the aim of holding exchange activities in sports, culture, economy, and education beyond the Tokyo 2020 Games.
Noshiro City, which has been selected as Jordan's Host Town in August 2019, is located northwest of Akita Prefecture, part of Tohoku Region, and is around 670 km north of Tokyo, with a total population of 52,000 inhabitants. The city is surrounded by Shirakami Mountains, which holds a UNESCO World Heritage Site called Shirakami Sanchi. Noshiro, also known as the "Basketball City", has one of the best Basketball team on the High School level, the Noshiro Industry High School Basketball Team. 
The 2020 Olympics and Paralympic Games are due to take place in Tokyo on July 24 till August 9 and August 25- till September 6 respectively.