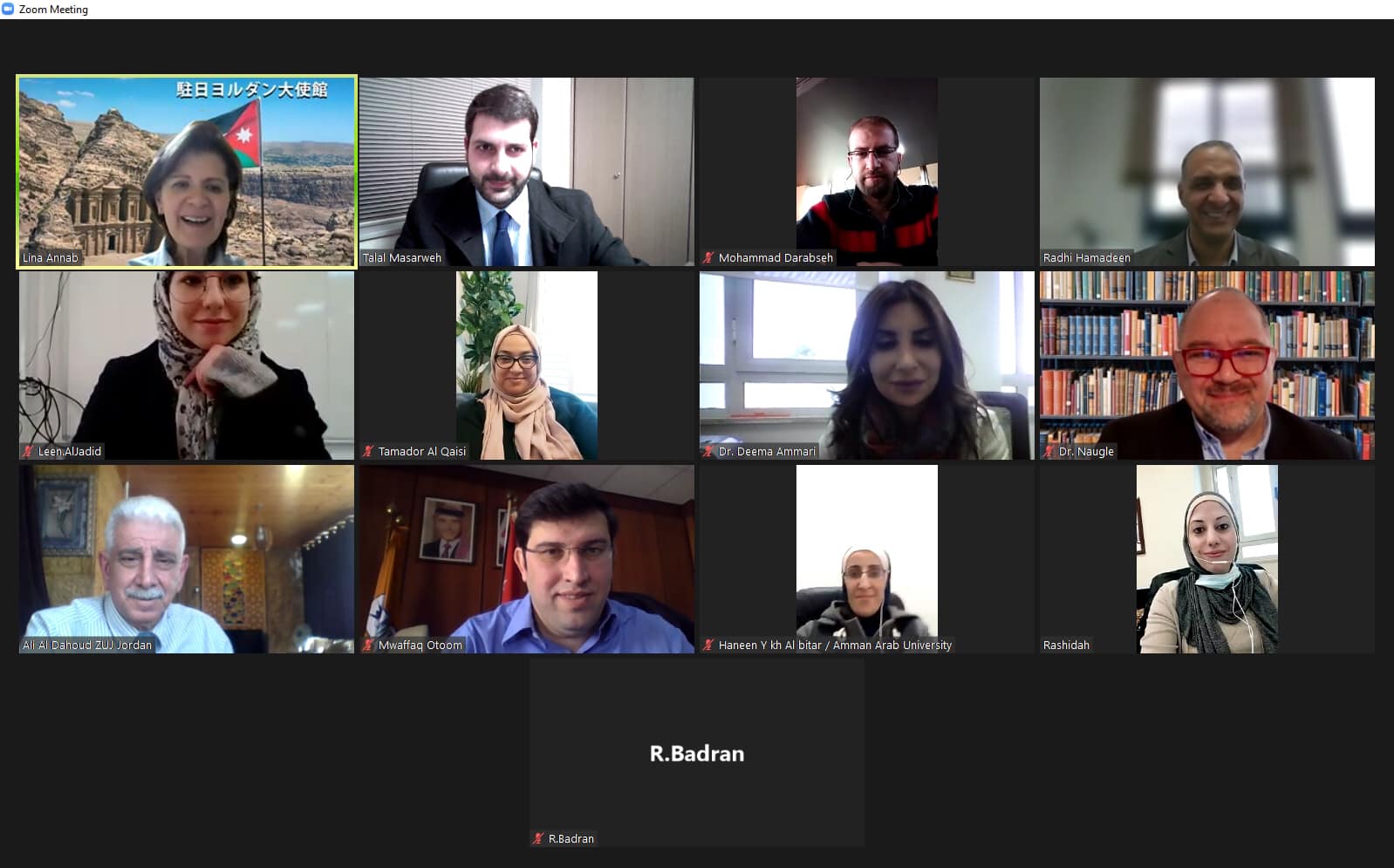 February 15th 2022
An online meeting was held on Tuesday February 15 between the Embassy and a group of Jordanian Universities in order to explore ways of developing and enhancing academic relations and exchanges with Japanese Universities.
The meeting was attended by Ambassador Lina Annab, 3rd Secretary Talal Masarweh, the President of Aqaba University of Technology Dr. Mohammad Abu Darwish, in addition to directors and staff from the International Affairs Departments of Princess Sumaya University for Technology, the University of Jordan, Al Hussein Technical University, Jordan University of Science and Technology, Al-Zaytoonah University, Yarmouk University, Al-Ahliyya Amman University and Aqaba University of Technology. During the meeting, the participants exchanged views and ideas regarding potential areas of cooperation and the proposed plan by the Embassy to create linkages and partnerships between the Jordanian and Japanese universities in collaboration with the J-MENA network (Study in Japan Global Network Project in Middle East & North Africa).
Among the top of our priorities is to expand academic relations between Jordan and Japan.
Education and academic exchanges are pivotal in advancing people to people diplomacy and in building bridges of understanding leading to respect of nations and to peaceful existence.
السفارة تنظم لقاءً مع الجامعات الأردنية
عقدت السفارة اجتماعاً عبر تقنية التواصل المرئي بتاريخ 15 شباط جمع عدداً من الجامعات الأردنية بهدف تعزيز التعاون الأكاديمي مع الجامعات اليابانية
‎حضر اللقاء السفيرة لينا عنّاب، والسكرتير الثالث طلال مصاروه، والدكتور محمد أبو درويش رئيس جامعة العقبة للتكنولوجيا، إضافة إلى مدراء وعاملين في دوائر العلاقات الخارجية في كل من جامعة الأميرة سمّية للتكنولوجيا، والجامعة الأردنية، وجامعة العلوم والتكنولوجيا، وجامعة الزيتونة، وجامعة اليرموك، وجامعة العقبة للتكنولوجيا وجامعة عمّان الأهلية
‎تم خلال الاجتماع تبادل الآراء ووجهات النظر حول آفاق التعاون الأكاديمي مع الجامعات اليابانية بالإضافة إلى خطة عمل السفارة لإنشاء شراكات بين الجامعات الأردنية واليابانية وذلك بالتعاون مع الشبكات الجامعية المختلفة
‎تعزيز وتطوير العلاقات الأكاديمية بين الأردن واليابان هي إحدى أهم الأولويات التي تعمل عليها السفارة نظراً لأهميتهم في تبادل المعرفة والعلم ونظراً لأهمية التعليم والتبادل الأكاديمي في الارتقاء بدبلوماسية الشعوب وفي بناء جسور التفاهم والمحبة والسلام
2022年2月15日火曜日、日本の大学との交流に関心を持つヨルダンの大学と、大使館とのオンラインミーティングが開催されました。
会議には、大使館よりリーナ・アンナーブ大使、タラル・マサルウェ3等書記官、また、アカバ工科大学モハマド・アブ・ダーウィッシュ学長をはじめ、プリンセス・スマヤ工科大学、ヨルダン大学、アルフセイン工科大学、ヨルダン科学技術大学、アルザイトーナ大学、ヤルムーク大学、アルアヒリーヤ・アマン大学から職員が出席しました。
会議では、潜在的な協力分野や、J-MENAネットワーク(中東・北アフリカにおける日本留学グローバルネットワークプロジェクト)と連携してヨルダンと日本の大学の連携とパートナーシップを構築するために大使館が提案した計画について意見交換を行いました。
私たちの最優先事項のひとつは、ヨルダンと日本の学術的な関係を拡大することです。教育や学術交流は、人と人との外交を進め、国家間の尊重と平和につながる理解の架け橋となる極めて重要なものです。