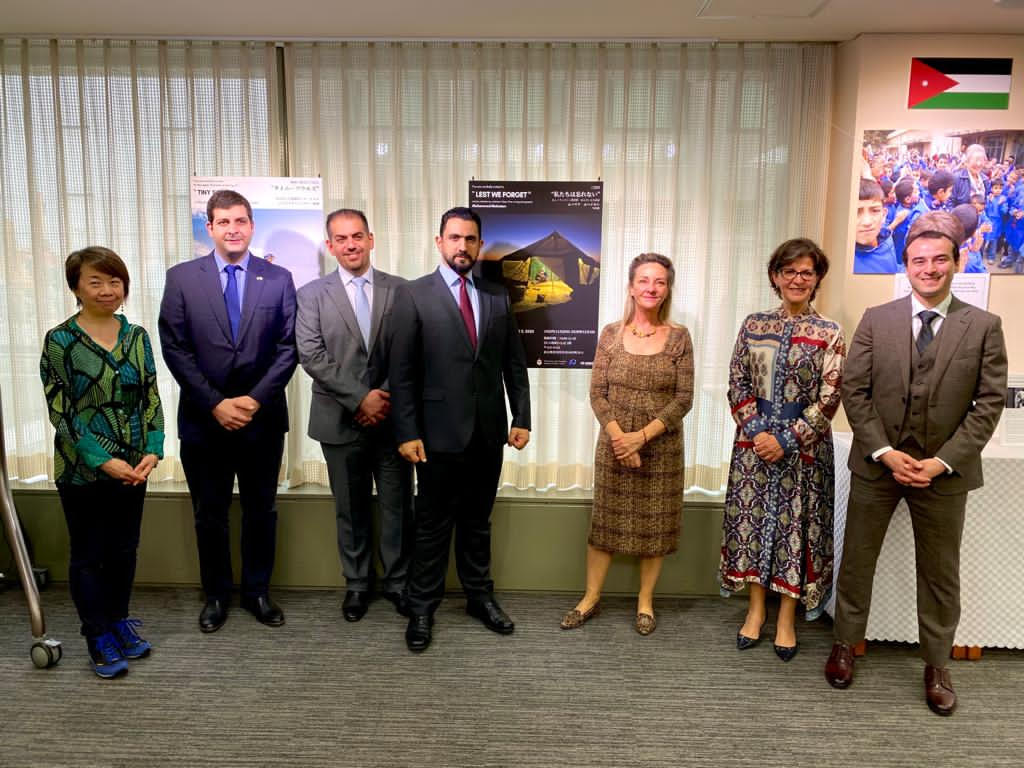 November 20th, 2020
The opening of "Lest We Forget" Exhibition by two-time Pulitzer Prize-winning Jordanian photojournalist Muhammed Muheisen took place on Friday November 20th at JICA Global Plaza in Tokyo. The Exhibition has on display a selection of powerful pictures that capture casual moments of refugees in refugee camps in Jordan. In their stillness, these visuals tell a thousand moving stories of courage, hardship, perseverance and hope.
The opening of the Exhibition coinciding with the World Children Day, the most vulnerable group affected by the global refugee crisis, was attended by a diverse audience including visitors to JICA and members of the media corps in Tokyo.
In addition to the photo exhibition, the event will feature on Saturday November 28th the Japan Premier screening of the award-winning documentary movie by Jordanian director Dina Naser "Tiny Souls". (Japanese subtitled).
The Exhibition includes a special tribute to the late Mrs. Sadako Ogata, a role model and a staunch leader who advocated and worked tirelessly to save and help refugees all over the globe.
"Lest We Forget" Exhibition aims to highlight the humanitarian crisis and plight of the refugees in Jordan and all over the world. It also sheds light on the disproportionate and gargantuan task shouldered by Jordan as a refugee host country. Today Jordan is one of the highest per capita refugee countries in the world hosting approximately 3.5 million refugees out of 10 million total population. 1.3 million persons or almost 13% are Syrian refugees, with almost 660,000 refugees registered with UNHCR in Jordan; while there are 2.2 million Palestinian refugees registered with UNRWA in Jordan.
"Lest We Forget" is coordinated with UNHCR in Japan and Japan International Cooperation Agency (JICA).The Exhibition will run until December 3rd.
11月20日(金)、東京の"JICA地球ひろば"にて、2度のピューリッツァー賞を受賞したヨルダンのフォトジャーナリスト、ムハマド・ムヘイセン氏による「私たちは忘れない」写真展のオープニングが開催されました。本展では、ヨルダンの難民キャンプに暮らす難民の何気ない瞬間をとらえた力強い写真の数々が展示されています。静寂の中にあるこれらの作品は、勇気、苦難、忍耐、希望などの感動的な物語を無数に伝えています。
世界的な難民危機の影響を最も受けやすい弱い立場にある–「世界子どもの日」に合わせて開催された本展のオープニングには、JICAの来場者や東京の報道陣をはじめ、多くの方々が訪れました。
写真展に加え、11月28日(土)には、ヨルダンのディナ・ナセル監督によるドキュメンタリー映画「タイニー・ソウルズ」(日本語字幕版)のジャパンプレミア上映も予定されています。
本展では、世界中の難民の救済に尽力された先駆者、故緒方貞子氏に敬意を表してその特別展示もしています。
"私たちは忘れない"写真展は、ヨルダンをはじめとする世界中の難民の人道的危機と苦境を浮き彫りにすることを目的としています。また、難民受け入れ国としてのヨルダンが背負っている非常に大きな負担に光を当ています。現在、ヨルダンは、総人口1,000万人のうち約350万人の難民を受け入れており、一人当たりの難民数が世界で最も多い国の一つである。そのうち130万人(約13%)がシリア難民で、ヨルダンの国連難民高等弁務官事務所(UNHCR)に登録されている難民は66万人近く、ヨルダンの国連パレスチナ難民救済事業機関(UNRWA)に登録されているパレスチナ難民は220万人です。
"私たちは忘れない"写真展は、日本の国連難民高等弁務官事務所(UNHCR)と国際協力機構(JICA)の協力のもと、12月3日まで開催されています。