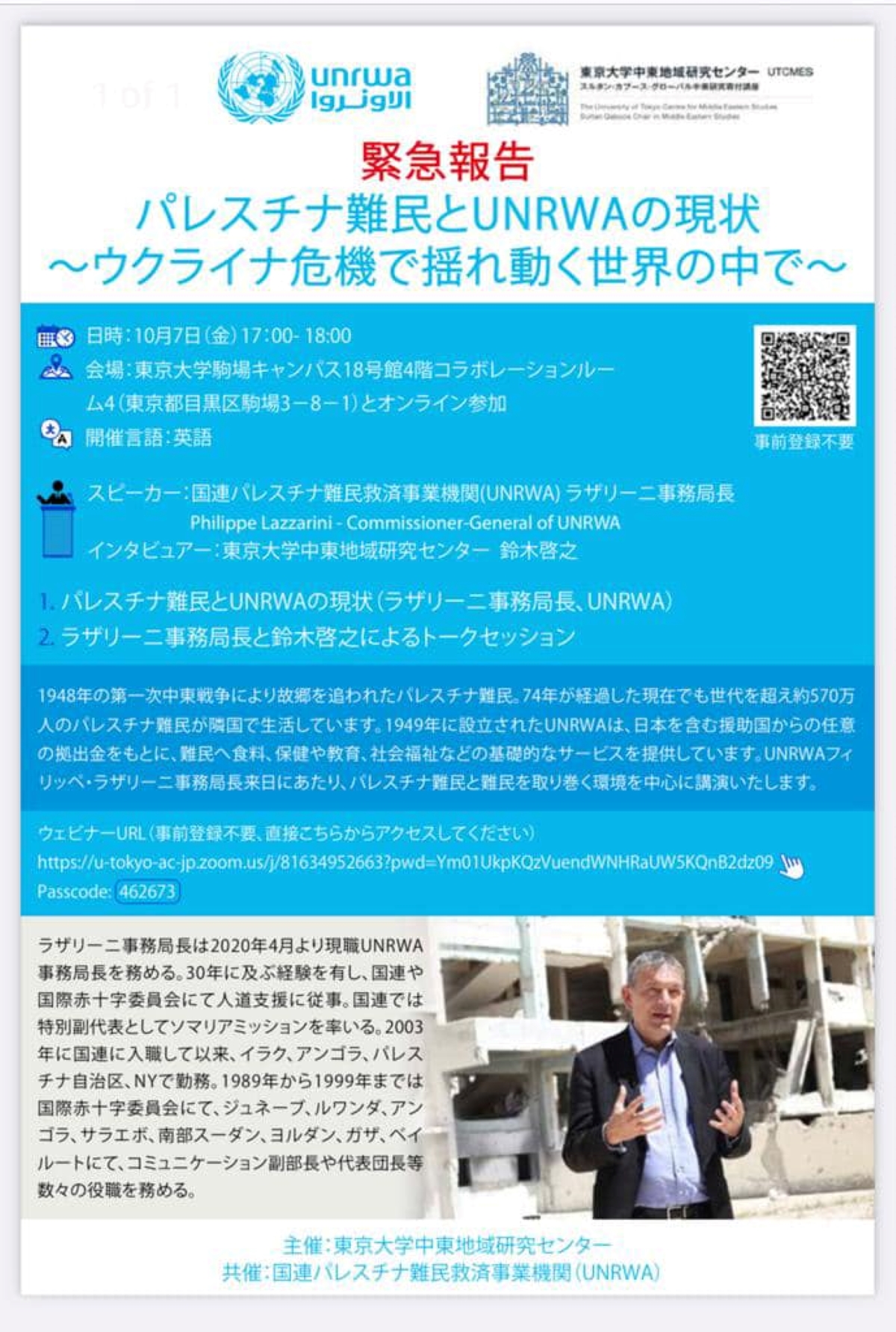 October 7th 2022
The University of Tokyo Centre for Middle Eastern Studies (UTCMES), in collaboration with the United Nations Relief and Works Agency for Palestinian Refugees (UNRWA), hosted the Commissioner-General of UNRWA Philippe Lazzarini, who gave a lecture titled "Palestinian Refugees and UNRWA: In a World Shaken by the Ukraine Crisis."
Mr Lazzarini briefed the attendees on the current challenges facing the Palestinian refugees amidst, conflicts, Covid-19, poverty, and rising food prices, he also pointed out that those factors alongside the absence of a political process and high levels of violence impact the ability of UNRWA to deliver its services.
He also referred to the challenges that exerts pressure on UNRWA, especially the chronic lack of sufficient voluntary funding from Member States and the unpredictable nature of most of the funding.
Mr. Lazzarini, concluded an official visit to Tokyo from 5 – 7 October, during which he met with Japan's Minister of Foreign Affairs H.E. Hayashi Yoshimasa, numerous senior Japanese and UN officials, and Arab ambassadors based in Japan. The Commissioner-General highlighted the critical situation of Palestine refugees and the Agency's financial crisis, and discussed ways to mobilize sustainable support.
السفارة تشارك في محاضرة بعنوان "اللاجئون الفلسطينيون والأونروا، في عالم تهزّه أزمة أوكرانيا" قدمها المفوض العام للأونروا فيليب لازاريني في جامعة طوكيو
 استضاف مركز جامعة طوكيو لدراسات الشرق الأوسط (UTCMES) بالتعاون مع وكالة الأمم المتحدة لإغاثة وتشغيل اللاجئين الفلسطينيين (الأونروا) المفوض العام للأونروا فيليب لازاريني، الذي ألقى محاضرة بعنوان "اللاجئون الفلسطينيون والأونروا" : في عالم تهزّه أزمة أوكرانيا ". وأطلع السيد لازاريني الحضور على التحديات الحالية التي يواجهها اللاجئون الفلسطينيون وسط الصراعات وفيروس كوفيد -19 والفقر وارتفاع أسعار المواد الغذائية، كما أشار إلى أن تلك العوامل إلى جانب غياب العملية السياسية وارتفاع مستويات العنف تؤثر على قدرة الأونروا على تقديم خدماتها
كما أشار إلى التحديات التي تمارس للضغط على الأونروا، لا سيما النقص المزمن في التمويل الطوعي الكافي من الدول الأعضاء والطبيعة غير المتوقعة لمعظم التمويل
      وكان السيد لازاريني قام بزيارة رسمية إلى طوكيو خلال الفترة ما بين 5-7/10/2022 التقى خلالها بوزير الخارجية الياباني هاياشي يوشيماسا ، والعديد من كبار المسؤولين اليابانيين والأمم المتحدة والسفراء العرب المقيمين في اليابان. وسلط المفوض العام الضوء على الوضع الحرج للاجئين الفلسطينيين والأزمة المالية للوكالة، وناقش سبل حشد الدعم المستدام
フィリップ・ラザリーニUNRWA事務局長の講演「ウクライナ危機で揺れる世界におけるパレスチナ難民とUNRWA」(於:東京大学)に大使館が出席
10月7日 2022
東京大学中東地域研究センター(UTCMES)は、国連パレスチナ難民救済事業機関(UNRWA)と共同で、フィリップ・ラザリーニUNRWA事務局長を迎え、「ウクライナ危機で揺れる世界におけるパレスチナ難民とUNRWA」 と題した講演会を開催しました。
ラザリーニ氏は、紛争、Covid-19、貧困、食料価格の上昇の中でパレスチナ難民が直面している現在の課題について説明し、政治プロセスの不在や高いレベルの暴力とともに、これらの要因がUNRWAのサービス提供能力に影響を与えている指摘しと懸念を示しました。
また、UNRWAに負担をかけている課題、特に加盟国からの自発的資金が慢性的に不足していること、そして資金のほとんどが予測不可能な性質を持っていることにも言及しました。
ラザリーニ事務局長は、10月5日から7日にかけて東京を公式訪問し、林芳正外務大臣をはじめ、多数の日本および国連高官、駐日アラブ大使と会談し、日程を終了しました。事務局長は、パレスチナ難民の危機的状況や国連の財政危機を強調し、持続的な支援方法についても話し合いました。