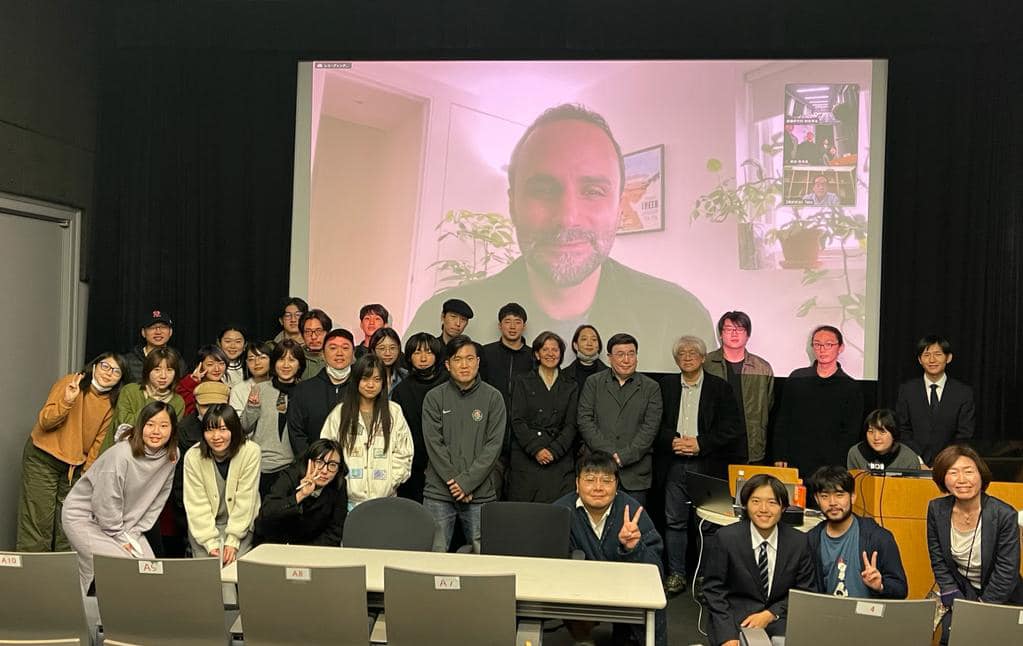 November 7th 2022
The coming-of-age tale "Theeb", the first film from Jordan that made history by receiving an Oscar nomination for the best foreign language film in 2016 was screened on November 7 at Tokyo University of The Arts (GEIDAI).
Following the screening, producer and screenwriter Bassel Ghandour, joined a group of students online and shared the inspiring story of the making of this epic film. The film was directed by Director Naji Abu Nuwar who describes "Theeb" as a Bedouin Western, with nods to Akira Kurosawa's samurai films and American westerns.
Prior to shooting the film, Ghandour and Abu Nuwar lived for a year in the southern Jordanian desert of Wadi Rum to meet and live among local Bedouin and gain a better understanding of their culture and lifestyle.
The screening of Theeb at GEIDAI was a great opportunity to exchange ideas and experiences in movie-making from a technical and story building angles. The engagement of the local community in all aspects of making this movie including first-time actors was amplified and introduced.
We owe a special  thanks and gratitude to Professor ICHIYAMA shozo, Director TSUTSUI Takefumi, GEIDAI and to the faculty and students for the opportunity to share the great and inspiring story of how this low-budget movie made it to Oscar nominations.
عرض فيلم (ذيب) في جامعة طوكيو للفنون (جيداي)
عُرض فيلم "ذيب"، وهو أول فيلم أردني يصنع التاريخ من خلال ترشيحه لجائزة الأوسكار عن أفضل فيلم بلغة أجنبية لعام 2016، في 7 نوفمبر في جامعة طوكيو للفنون (جيداي)
بعد العرض، انضم المنتج وكاتب السيناريو باسل غندور إلى مجموعة من الطلاب عبر الإنترنت وشاركوا القصة الملهمة لصناعة هذا الفيلم الملحمي. أخرج الفيلم المخرج ناجي أبو نوار الذي وصف "ذيب" بأنه بدوي غربي، مع إيماءات إلى أفلام الساموراي أكيرا كوروساوا والأمريكيين الغربيين
قبل تصوير الفيلم، عاش غندور وأبو نوار لمدة عام في صحراء وادي رم جنوب الأردن للقاء والعيش بين البدو المحليين واكتساب فهم أفضل لثقافتهم وأسلوب حياتهم
كان عرض فيلم ذيب في (جيداي) فرصة رائعة لتبادل الأفكار والخبرات في صناعة الأفلام من الجوانب الفنية وبناء القصة. تم تضخيم وتقديم مشاركة المجتمع المحلي في جميع جوانب صنع هذا الفيلم بما في ذلك الممثلين لأول مرة
نحن مدينون بشكر خاص وامتنان للبروفيسورإيتشياما شوزو، والمخرج تسوتسوي تاكيفومي، و (جيداي) وأعضاء هيئة التدريس والطلاب على إتاحة الفرصة لهم لمشاركة القصة الرائعة والملهمة حول كيفية وصول هذا الفيلم منخفض الميزانية إلى ترشيحات الأوسكار
لمشاركة القصة الرائعة والملهمة حول كيفية وصول هذا الفيلم منخفض الميزانية إلى ترشيحات الأوسكار
"THEEB" 東京藝術大学(GEIDAI)上映会
11月7日 2022
2016年にアカデミー賞外国語映画賞にノミネートされ、歴史に名を残したヨルダン映画、青春物語「THEEB」が11月7日、東京藝術大学(GEIDAI)にて上映されました。
上映後、プロデューサー兼脚本家のバセル・ガンドゥール氏が、オンラインで学生たちと一緒に、この壮大な映画の制作の感動的なストーリーを共有しました。ナジ・アブ・ヌワル監督は、この映画を黒澤明の侍映画やアメリカの西部劇を思わせるベドウィンの西部劇と表現しています。
撮影に先立ち、ガンドゥールとアブ・ヌワールはヨルダン南部のワディラム砂漠に1年間滞在し、現地のベドウィンと出会い、生活を共にすることで彼らの文化やライフスタイルをより深く理解することができました。
藝大での『Theeb』上映は、技術面やストーリー構築の観点から、映画製作におけるアイデアや経験を交換する良い機会となりました。初演技の俳優を含め、この映画制作のあらゆる側面に地元の人々が関わっていることが強調され、紹介されました。
この低予算映画がいかにしてアカデミー賞候補になったかという偉大で感動的なストーリーを共有する機会を与えていただいた市山尚三教授、筒井武文監督、藝大、そして教員と学生の皆さんに、特別な感謝とお礼を申し上げたいと思います。