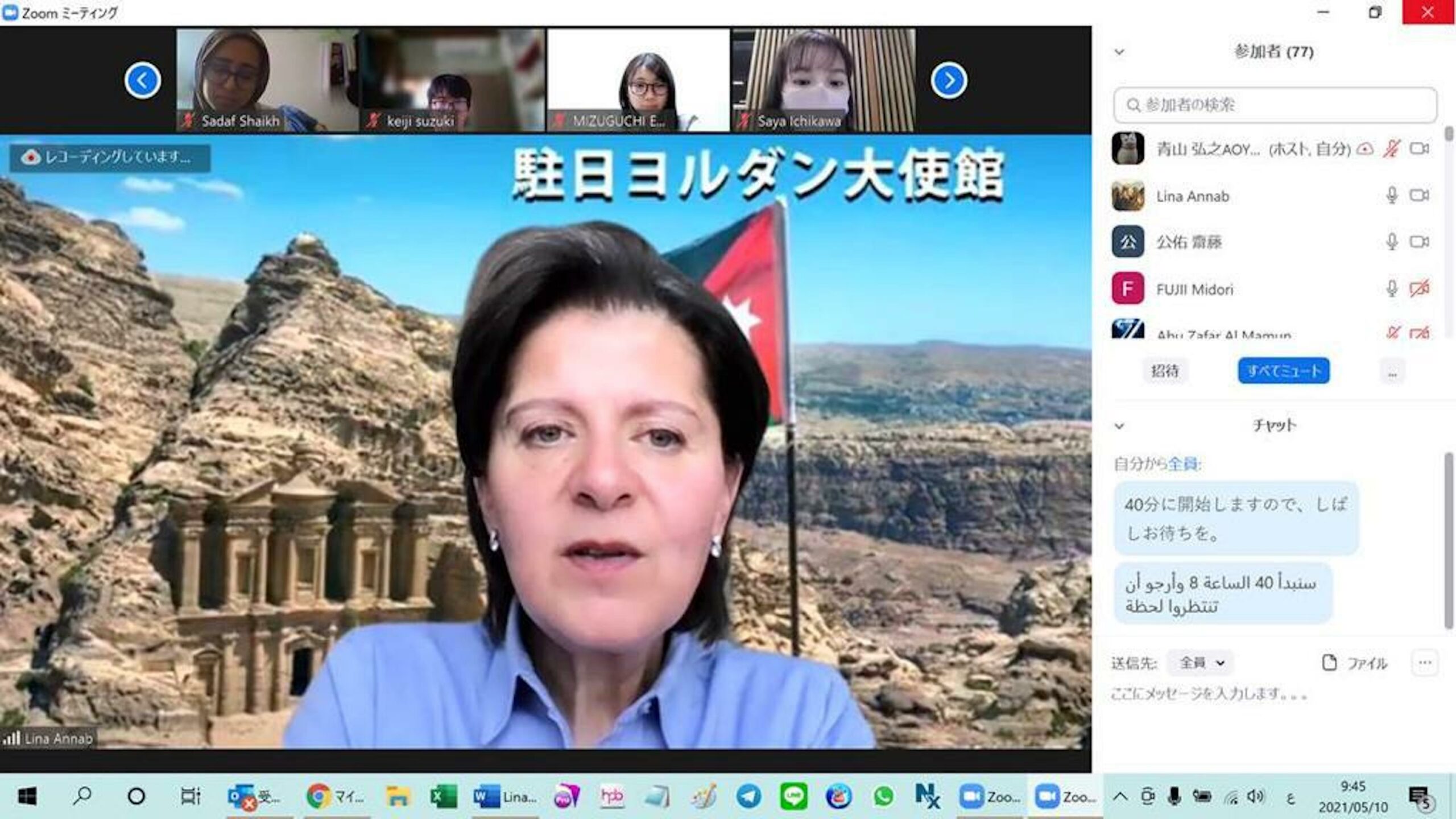 May 10th 2021
On the 10th of May 2021, HE Ambassador Lina Annab held an online lecture for the students of Tokyo University of Foreign Studies (TUFS) during which she presented Jordan's culture, history, and touristic sites in addition to the bilateral relations between Jordan and Japan. This event aimed at deepening the understanding of the students about our beloved country.
The lecture, which was organized by Professor Hiroyuki AOYAMA/ Graduate School of Global studies (TUFS), was attended by 75 students, mostly first year students specialized in The Middle Eastern studies.
In March 2021, TUFS has been added to the list of non-Jordanian Universities recognized by the Ministry of Higher Education and Scientific Research of Jordan or MOHE, which brings up the total of Japanese Universities recognized by MOHE to 58 universities, up from 53 in 2020.
The Embassy and TUFS are currently working on deepening the academic cooperation between TUFS and Jordanian Universities.
محاضرة في جامعة طوكيو للدراسات الخارجية
عقدت معالي السفيرة لينا عنّاب محاضرة عبر تقنية الإتصال المرئي لمجموعة من طلاب جامعة طوكيو للدراسات الخارجية (جامعة طو للدراسات الأجنبية)، حيث قدّمت السفيرة عرضاً حول التاريخ والثقافة والمواقع السياحية الأردنية بالإضافة إلى نبذة عن العلاقات الثنائية الأردنية اليابانية لتعريف وتعميق فهم الطلاب لبلدنا الحبيب
 تم تنظيم هذه المحاضرة من قبل البروفيسور هيرويوكي أوياما/كلية الدراسات الدولية، حضرها 75 طالب وطالبة، معظمهم من السنة الأولى والمتخصصين بالدراسات الشرق الأوسطية
تجدر الإشارة إلى أن جامعة طوكيو للدراسات الخارجية حصلت على إعتراف وزارة التعليم العالي والبحث العلمي الأردنية في شهر آذار من العام الحالي، حيث بلغ عدد الجامعات اليابانية المعترف بها من قبل الوزارة 58 جامعة، مقارنة بـ53 جامعة العام الماضي
هذا وتقوم السفارة بالعمل حالياً مع جامعة طوكيو للدراسات الخارجية لتعزيز التعاون الأكاديمي ما بين الجامعة ونظيراتها الأردنية
東京外国語大学でのオンライン講演
2021年5月10日
5月10日にリーナ・アンナーブ駐日ヨルダン大使は東京外国語大学の授業にゲストスピーカーとして参加し、東京外国語大学の学生に対してヨルダンの文化、歴史、遺跡、それから日本とヨルダンの外交関係についてプレゼンテーションを行いました。このイベントを通じて東京外国語大学の学生はヨルダンに対する理解を深めることができ、非常に意味のある交流となりました。
この講演は東京外国語大学の大学院総合国際学研究院の教授である青山弘之先生によって主催され、75人ほどの中東地域を専攻している学生が参加しました。
2021年の3月に東京外国語大学は、ヨルダンの高等教育省によって公式認定されました。東京外国語大学や他の4校の追加により、日本においてヨルダン政府に公式認定された大学の数は昨年度の53校から5校増え、58校になりました。
当大使館はヨルダンの大学と東京外国後大学が学術的交流を深めるためにこれからも尽力していく予定でございます。