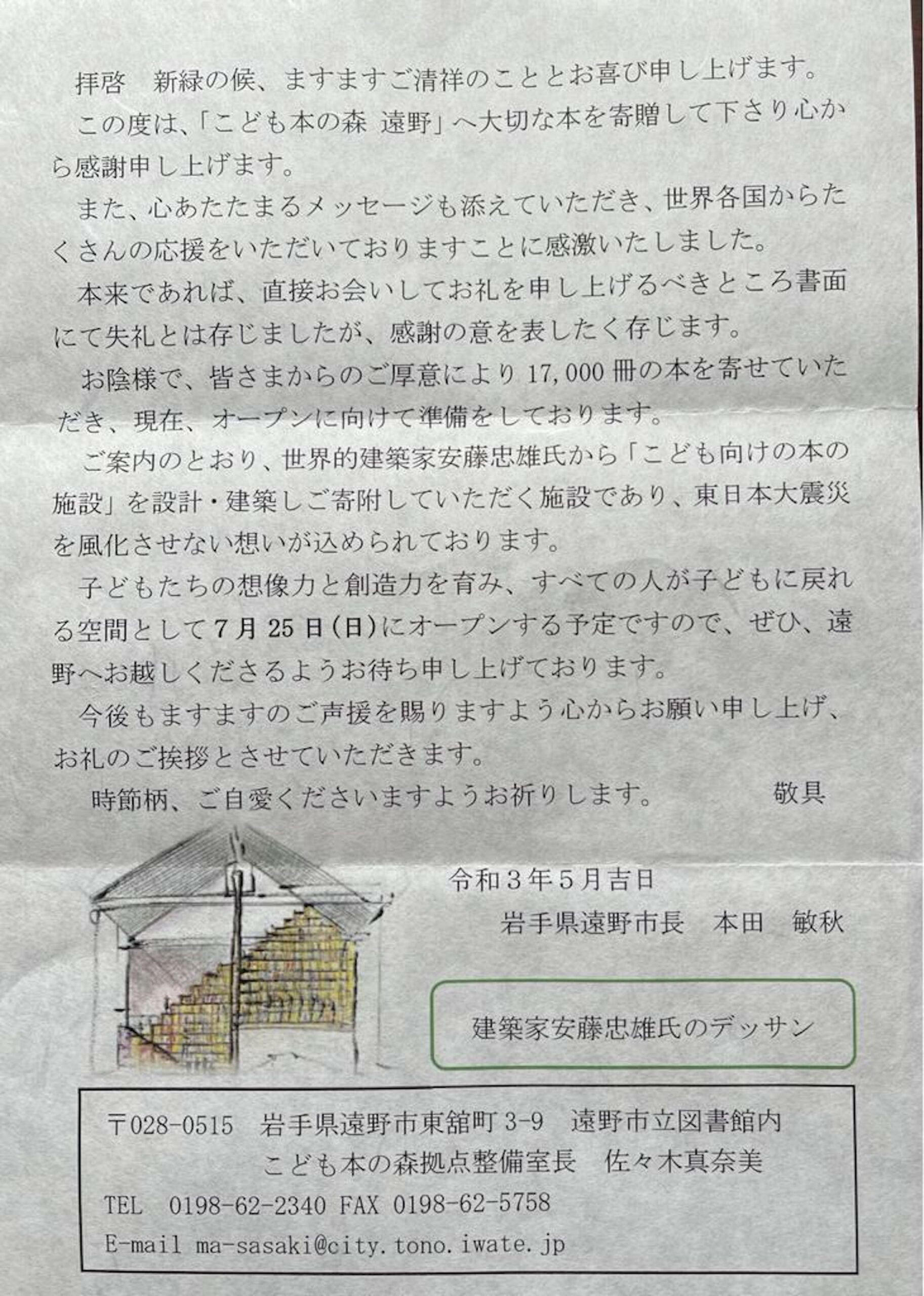 February 27th, 2021
The city of Tono in Iwate Prefecture plans to open this children's library with support from internationally renowned architect Tadao Ando to mark the 10th anniversary of the Great East Japan Earthquake that shook the Tohoku area in March 2011*.
The 6-book illustrated series of "Anzeh Azeeza" written by Karen Asfour, and the illustrated novel telling the inspiring story of Jordanian mountaineer MOSTAFA Salameh "Everest Adventure: Fulfilling The Dream" were donated to "Tono Children's Book Forest". The library is scheduled to open in July, 2021.
World renowned architect Tadao Ando is collaborating with Iwate city to build children's library marking earthquake anniversary.*
*The 2011 Tōhoku earthquake was the most powerful earthquake ever recorded in Japan, and the fourth most powerful earthquake in the world since modern record-keeping began in 1900.
A call for all Jordanian children book authors who wish to donate their works to "Tono Children's Book Forest", please contact us at this email address:
Full article on "Tono Children's Book Forest":
https://the-japan-news.com/news/article/0007164498
Illustrations below by:
– Sandra Dajani (MEXT Scholarship alumna from Tamabi University in Tokyo)
– Natalie Hijazi
– Ely Elziny
こども本の森遠野への本の寄付
2021年2月27日
岩手県遠野市は、2011年3月に東北地方を襲った東日本大震災から10年の節目を迎えて、世界的に有名な建築家安藤忠雄氏の支援を受けてこども本の森遠野という子供向け図書室を開設する予定です。
カレン・アスフォー氏が書いた6冊のイラストシリーズ「アンゼ・アゼーザ」と、ヨルダンの登山家ムスターファ・サラーメ氏の感動的な物語を描いたイラスト小説「エベレストアドベンチャー:夢が叶うということ」が「こども本の森」に寄贈されました。この図書室は2021年7月に開館する予定です。
「遠野児童書の森」への寄贈を希望されるヨルダンの児童書作家の方がおられましたら
以下のメールアドレスまでご連絡ください。
「遠野児童書の森」の全記事:
https://the-japan-news.com/news/article/0007164498
以下のイラスト:
-サンドラ・ダジャニ(多摩美術大学、文部科学省奨学金卒業生)
-ナタリー・ヒジャジ
-Ely Elziny