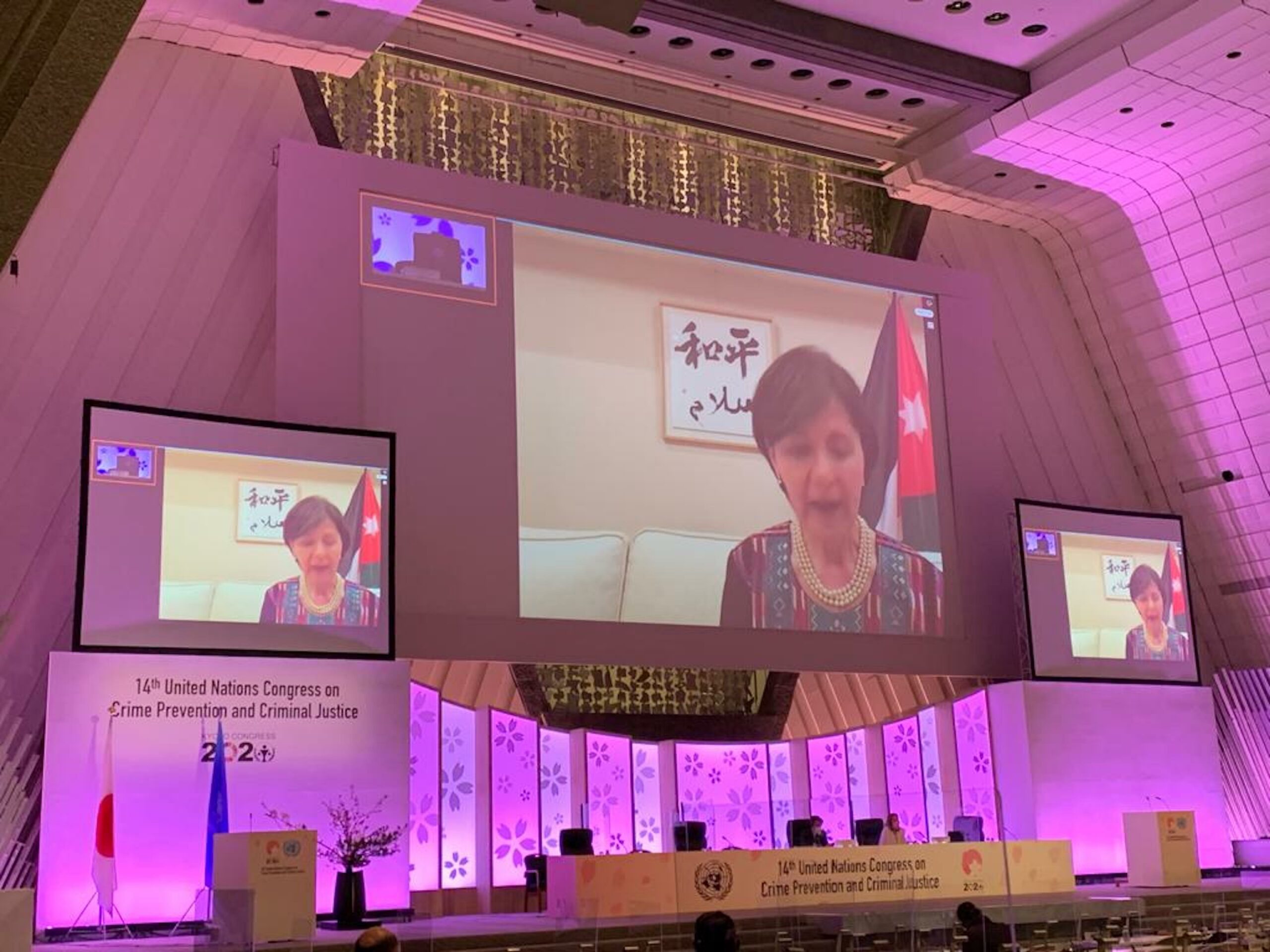 March 7th – March 12th, 2021
The 14th United Nations Congress on Crime Prevention and Criminal Justice concluded its work in Kyoto, Japan under the theme of "Advancing crime prevention, criminal justice and the rule of law: towards the achievement of the 2030 Agenda".
HE Ambassador Annab headed the Jordanian delegation participating in the Congress and delivered a online speech on behalf of the Jordanian Government during which she presented Jordan's comprehensive national policies aimed at developing the judicial system and enhance the rule of law, in accordance with the UN's Sustainable Development Goals (SDGs), in addition to Jordan's efforts in developing the national legislations, especially in the field of electronic crimes.
Participating delegations called for renewing global cooperation against crime to achieve the Sustainable Development Goals (SDGs) and recover from the pandemic. With the adoption of the Kyoto Declaration*, member governments agreed on concrete actions to advance responses addressing crime prevention, criminal justice, rule of law and international cooperation. The Declaration also provided a guide and a clear point of reference for going forward.
The multi-stakeholder platform underpinned the need for strengthening multilateralism in facing global challenges. It was also inclusive and brought together large and diverse gathering of Governments, civil society, academia and experts in crime prevention and criminal justice.
The meeting is the first of its kind in scale to be held since the outbreak of the pandemic in the world. At a time when meetings of such magnitude seemed like an impossible endeavor, the Congress was not only unique but also pioneering in its innovative and creative hybrid format.
Over 5000 representatives attended the event either in person and/or online, aided by impeccable organization and attention to detail. The precision and punctuality of the meetings, from plenary sessions to side ancillary events and workshops, are a true testimony to the massive efforts behind bringing it to life. The management of the event has set a powerful example and precedent for the ability to harness the power of technology in overcoming challenges.
*Kyoto declaration
https://undocs.org/A/CONF.234/L.6
第14回国連犯罪防止刑事司法会議
2021年3月7日­〜2021年3月12日
第14回国連犯罪防止刑事司法会議は京都で執り行われ、持続可能な開発目標(通称;SDGs)の達成に向けた犯罪防止,刑事司法及び法の支配の推進が目標として掲げられました。
リーナ・アンナーブ駐日ヨルダン大使はヨルダン王国の代表としてこの会議に参加し、オンラインでスピーチを行いました。スピーチの中で大使はヨルダンにおける持続可能な開発目標(通称;SDGs)に基づく司法システムの発達、法の支配の強化を目的としたヨルダンの包括的な政策について説明を行いました。また、それに加えてコンピューター犯罪をはじめとする様々な分野においてヨルダンの立法分野における努力についても説明を行いました。
代表団は、持続可能な開発目標(SDGs)を達成しつつ、パンデミックから回復するために、犯罪に対する国際的な協力を一新することを求めました。京都宣言の採択に伴い、加盟国政府は、防犯、刑事司法、法の支配および国際協力に取り組むための具体的な行動を行うことに合意しました。またこの宣言は、掲げられた目標に向かって行動をするための指針を国際社会に明示しています。
今回の会議は、地球規模の課題に直面する際に多国間主義を強化する必要性を支えました。また、今回の大規模な会議に際して、政府、市民社会、学界、および犯罪防止と刑事司法の専門家といった多様な立場の方が集まり、意見交換をおこなうことができました。
この会議は、パンデミックの中で開催された会議の中では最大規模のものでした。このような規模の会議が新型コロナウイルスの影響で不可能な試みのように思われた中で、この議会はユニークであるだけでなく、革新的で創造的なオンラインと対面を交えたハイブリッド形式で行われました。
5000人以上の代表者がすばら念入りに企画されたこのイベントに直接またはオンラインでイベントに参加しました。全体会議からイベントやワークショップまで、計画通り円滑に催行されたことは、それを実現するために払われた多大な努力の真の証と言えるでしょう。このイベントは新型コロナウイルスによって発生した課題を克服するためにテクノロジーを活用した良き先例となりました。
京都宣言について:
https://undocs.org/A/CONF.234/L.6